Producer / Director / Writer / Cameraman / Editor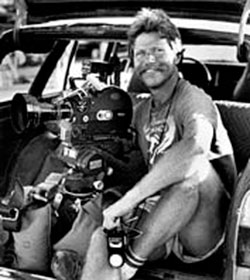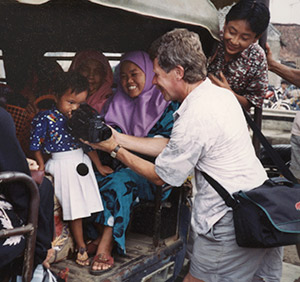 David L. Brown is a three-time Emmy Award-winning San Francisco documentary filmmaker who has produced, written and directed over 80 productions and 15 broadcast documentaries on social, nuclear, health, technology, peace and environmental issues. His documentaries have received over 80 international awards and have been broadcast on PBS and in 15 countries.
His recent work includes KEEPER OF THE BEAT: A WOMAN'S JOURNEY INTO THE HEART OF DRUMMING, an hour-long documentary on the life and music of acclaimed and pioneering drummer, Barbara Borden, that was awarded the Runner-Up for the Audience Award for Best Documentary at the 2013 Mill Valley Film Festival. RUNNING FOR JIM, a feature-length documentary on a legendary cross country coach who contracts ALS (Lou Gehrig's Disease). Best Documentary, Soho International Film Festival, Audience Award, Tiburon Film Festival. GOING THE DISTANCE: JOURNEYS OF RECOVERY, a hour-long documentary on survivors of traumatic brain injury; A SPAN IN TIME, a half-hour documentary that tells the dramatic and entertaining story of the 2007 Labor Day weekend construction project on the San Francisco Bay Bridge, with the now-legendary C.C. Myers at the contractor. Hilarious Emmy-winning cartoon animation (Emmy for Outstanding Graphics and Animation in a Program) introduces the soon-to-be-legendary TV anchor, Max Tabloid, who reports on the story as it unfolds on the screen. AMAZING: THE REBUILDING OF THE MACARTHUR MAZE, another recent project, is a half -hour documentary on the collapse and speedy rebuilding of Oakland's MacArthur Maze.
Other films include THE BRIDGE SO FAR – A SUSPENSE STORY, a 55-minute comedic documentary on the wild and troubled 16-year history of the new San Francisco-Oakland Bay Bridge, which won two Emmy Awards in 2007; OF WIND AND WAVES: THE LIFE OF WOODY BROWN, a feature-length documentary on 94-year old surfing, sailing and soaring legend Woody Brown, which received an Emmy nomination for Best Documentary DIGITAL DEMOCRACY COMES OF AGE, a 30-minute documentary on progressive blogging produced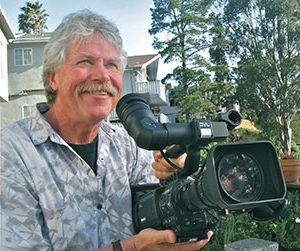 and aired by LinkTV. SENIORS FOR PEACE, a 26-minute portrait of an articulate and impassioned group of senior peace activists that aired on PBS in 2004; and SURFING FOR LIFE (1999), an inspirational documentary (68- and 57-min. versions) on older surfers as models of healthy and successful aging. SURFING FOR LIFE screened theatrically in 40 cities, was broadcast on over 130 PBS stations, won 15 international awards and was profiled in The New York Times Magazine, Parade Magazine, on National Public Radio and ABC's World News Tonight with Peter Jennings. The San Francisco Chronicle called it "a treasure, perhaps the most intelligent treatment of surfing ever captured on film."
Before discovering older surfers, Brown produced BOUND BY THE WIND (1993), a moving documentary (88-, 58- and 40-min. versions) on the global human and environmental legacy of nuclear weapons testing and the plight of the world's "downwinders." It has won 20 international awards including a CINE Golden Eagle, a Blue Ribbon at the American Film and Video Festival and a Golden Gate Award for Best Environmental Documentary at the San Francisco International Film Festival. It has been broadcast on PBS, in Canada (CBC), Japan (NHK), France (Canal+), Spain and several other countries. The Boston Globe called it "far and away the best film on the nuclear legacy." BOUND BY THE WIND was the culmination of Brown's 13 years of filmmaking with a primary focus on nuclear and environmental issues.
Brown's other recent productions include:
COMPUTER CLASSES (narrated by singer/actor Queen Latifah) and CROSSING THE DIVIDE (1998), two 56-minute PBS documentaries on teens and digital technology, episodes in the DIGITAL DIVIDE series which aired on over 150 PBS stations and in Canada, Japan and the Netherlands;
A QUESTION OF POWER (1986), a 58-minute documentary narrated by Peter Coyote addressing the nuclear power controversy which received 16 awards including a Blue Ribbon at the American Film and Video Festival and was broadcast twice on public television; and
FREE ZONE (1989), a 58-minute documentary on the international nuclear free zone movement which received 13 awards and was broadcast on public television and in several countries.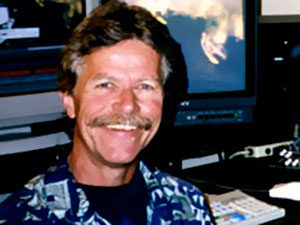 Additional productions include:
FARMING THE WATERS: JAVA'S BLUE REVOLUTION, a 27-minute documentary on aquaculture in the reservoirs of Java as a resettllement solution for population displacement from large dams (produced for the World Bank in 1994);
SEEDS OF HOPE, TOOLS FOR CHANGE, a 22-minute documentary on homelessness and the shelters, services and skills training of Episcopal Community Services (1993);
MAKE YOURSELF A PROMISE: EARTHQUAKE PREPAREDNESS FOR YOURSELF AND YOUR COMMUNITY, a 25-minute preparedness video produced in eight languages for Tenants and Owner's Development Corporation (1990);
EARTHQUAKE PREPAREDNESS: WHAT EVERY CHILDCARE PROVIDER SHOULD KNOW, a 25-minute earthquake preparedness video produced for the California State Office of Emergency Services (1992); and
AN OUNCE OF PREVENTION: STRENGTHENING YOUR WOOD FRAME HOME FOR EARTHQUAKE SAFETY, a 25-minute video also produced for the California State Office of Emergency Services (1992).
Brown also produced and directed three social issue documentary film festivals: THE NUCLEARFILM FORUM (1981); THE DISARMAMENT FILM FESTIVAL (1983); and THE PEACE IMAGE FESTIVAL (1984, 60 peace and environmental films were screened during the Democratic National Convention in San Francisco)Brown works in the film and television industry as a freelance producer, director, editor, cameraman, assistant director and production manager. He has over 100 credits on features, commercials, music videos and documentaries. He has shot television news for CBS, NBC, the BBC and others, and has produced and directed several multicam projects for Greenpeace U.S.A.  He teaches Documentary Filmmaking at CCSF and has taught at U.C. Berkeley Extension, and San Francisco Film Society. See Teaching Resume.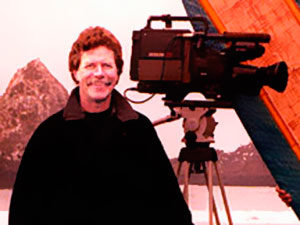 Current projects in production include SETTING THE WORD ON FIRE ,  an hour-long documentary-in-progress exploring the life and work of activist poet Alejandro Murguia, a writer passionately involved with the social justice struggles of his times.